Siddhalinga Mahaswamiji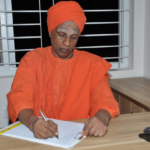 "Blood donation is a much more needed and immediate requirement for the society than donation of food. This life saving gesture needs the overwhelming support of the people" was the opinion expressed by Sri Siddhalinga SwamiJi, the President of the Siddhaganga Math, Tumakuru.
He was speaking on the occasion of the inauguration of the new building of the Rashtrotthana Blood Centre "Subadraben Jayanthilal Nagardas Shah Bhavan" located near Gavipuram Gavi Gangadeshwara Temple. "Blood donation is much more important than Anna Dana and Vidya Dana as it is essential for each and every human being. Hence more concerted efforts are required to organize blood donation drives in more numbers and on larger scales than it is being done now" he added.
"Sacrifice and Service are the two Qualities unique to our Nation Bharath. A human being can get education anywhere. But the much needed Samskaras or Values and Cultural Sensitivity that is the most basic and fundamental requirement for the wellbeing of any human being are instilled by Rashtrotthana Parishat. Rashtrotthana Blood Centre, which is one of the activities of Rashtrotthana Parishat has been singly responsible for saving the lives of lakhs of human beings. It is the labor of love and efforts of hundreds of individuals. The fact that Rashtrotthana Blood Centre has been able to collect more than 4 lakhs voluntary blood donations might be a Guinness World Record among most blood collected among non-governmental organizations" he added.
Speaking on the occasion, Shri V. Nagaraj, R.S.S. Dakshina Madhya Kshetra Sanghachalak said that our lives must be for the benefit of others. It is easy to pay the debt of our parents. But we will be able to repay the debt we owe to the society only through Seva or Service.
Also speaking on the occasion, Shri N. Dinesh Hegde, Rashtrotthana Parishat General Secretary while welcoming the guests said that "Rashtrotthana Blood Centre has been functioning for the past 26 years with the one single objective that anyone who comes to the center needing blood should not get disappointed and go back empty handed. Till now, 4289 blood donation camps have been conducted with over 2.75 lakhs donors and 7.41 units of blood have been collected. More than 7 lakh units of blood have been distributed to the beneficiaries out of which, 40% have been for government hospitals. For others, the charge collected is far lesser than the government fixed charges".
The occasion was also graced by the presence of Shri Jayantilal Nagardas Shah who is the principal sponsorer for Rashtrotthana Blood Centre and Shri S. R. Ramaswamy, President of Rashtrotthana Parishat. The function was preceded by planting of saplings by Swamiji and other dignitaries.